Studio 117 is always looking to pair up with individuals, local businesses, and school districts to bring Music Production and Technology programs to Central Pennsylvania. As a team of young, successful, and motivated individuals who are passionate about our careers and the betterment of our community, we are a unique solution to the lack of creative music education programs in our area.
Subscribe to our email list to receive discounts and to hear about the latest classes and seminars!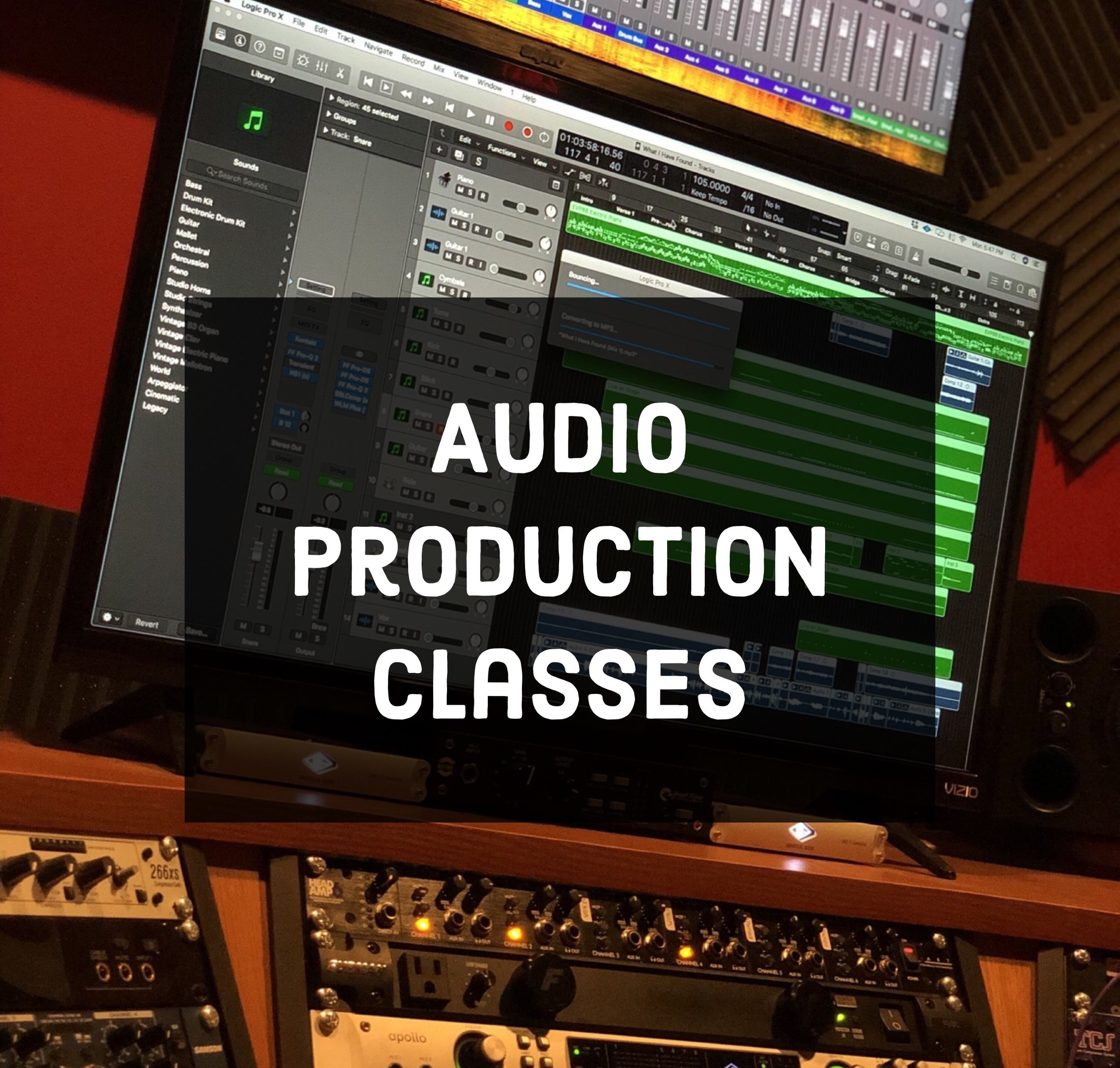 Starting in 2019, Studio 117 will be offering audio production classes to the public. We have realized that in Central PA, there aren't many opportunities for technical training regarding Audio Production, unless you plan to pay multiple thousands of dollars for classes at local colleges. We aim to bridge the gap between the basement and the start of a successful career in audio production without the need for general education credits. At Studio 117, we have the industry standard equipment you need to jump right into the career without having to purchase thousands in equipment. It's a safe bet for anyone who is interested in audio production but is still unsure of their career path. Don't start your career in debt!
Each course will be 10 classes (1-2 hours each) with 10 students max, and we are currently looking into funding for the possibility of offering scholarships to qualified applicants. If you would like to stay in the loop in the latest developments in our classes and when they will become available, please send us an email using the email button at the bottom of the page.
Starting at $75/Class. Bulk discounts available soon!
Studio 117 is now providing a physical location for virtual/ online classes and extern-ships through Recording, Radio, Film Connection & Casa Schools headquartered in Los Angeles, California.
This provides a one of a kind college experience for students looking to be hands on, but get their degree or certification on a flexible schedule. Not only are there benefits, such as flexible scheduling, but the price of tuition is dramatically less than a traditional college. To see the courses available click HERE or contact us via the email link at the bottom of the page for any questions.
Prices set by participating colleges. (CASA Schools/RRFC)
For the past 3 years, Studio 117 has offered residencies in conjunction with Arts In Education. These classes are typically setup to be weekly classes for 10-24 weeks, and are open to any public or private, education or enrichment center in Pennsylvania. Art's In Education may also be able to partially fund the residency. These residencies are perfect for pushing initiatives such as diversity, ethics, teamwork, professionalism, problem solving, or even helping students in their classes by linking core curriculum with Audio Production/Music Education.
Many students prefer to learn and actually perform better in classes involving music and arts. Traditionally, left brained thinkers are more organized and systematic while right brained thinkers are more creative and intuitive. Many current school programs exercise and test their students' abilities to solve problems in an organized and systematic manor but completely ignore the creative processes that certain individuals may use to understand these problems. This is why many people feel that they don't use certain methods that they learned in school to solve problems in real-life scenarios. We feel that an organized method is essential to solving many problems, but many people will need to get creative and intuitive in their workplace or in everyday life to succeed. For many, a link between creativity and traditional core curriculum classes are a must.
Currently, our residencies are limited to evenings and weekends. If your school or organization is interested in developing a residency with Studio 117, please use the email button at the bottom of the page to schedule a meeting.
$250/class per organization (10 Class Min. 15 student max) Scholarships may be available)
For the past 4 years, students have been interning with Studio 117 from over 15 school districts in York County and beyond. Having the chance of being mentored directly by some of the most creative minds in the area can be a life changing experience. Not only do we provide a young and relate-able experience in regards to the music industry, but we take the time to find what our interns are truly passionate about. From there, we can expose the students to careers that are directly related to their passions, rather than focusing solely on music. With this approach our interns are impacted in all aspects of their life and gain a sense of clarity for their future.
"I can't explain how much this internship has exposed me to, how much it has helped me grow as an artist and as a man. Thank you so much! Thank you for making me feel like I'm a part of the team, and giving me the opportunity to do an internship like this." -Phillip Douglass, Red Lion High School
Applicants 17 and older may apply for internships or service learning HERE. We receive hundreds of applications every year, so please understand this opportunity will only be open to select individuals.
FREE for well qualified/selected students/Email for price if interested in guaranteed/paid internship
For the past 3 years, Studio 117 has partnered with York County Alliance for Learning to host a county-wide Career Exploration Program. This is 1 time, 4 hour class open to students from YCAL participating high school juniors and seniors. This program allows an inside look of the different career opportunities in the music industry, and the specific day to day functions for each career.
Students are able to be hands on and work in teams within the Studio 117 Music Lab in Downtown York. This is the perfect opportunity to explore a career path for students who would like to learn more about the music industry before picking a definitive career path. Student may sign up through their guidance counselors office when the applications are available. Click HERE to check out more information on the YCAL website for upcoming programs.
FREE for students from participating schools (limited space available)